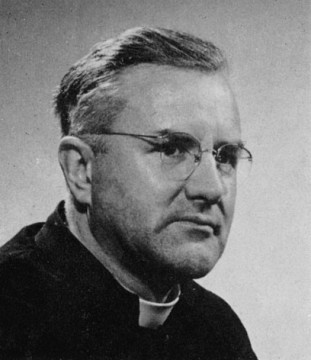 Last Saturday was the 100th anniversary of Agnes Holloway giving birth to Edward.
He was born just as Lenin's revolution began. This was the beginning of changing the poor, Christian country of Russia into the powerful Marxist one. It was predicted by Our Lady of Fatima over the previous six months (while Edward was in Agnes' womb!): "Russia will spread its [ideological] errors" widely, due to our lack of penitence.
The further ideological colonization of Christian Europe by relativism, predicted by Agnes, has ushered in what Holloway saw as "the end of the era of the Reformation" which began almost exactly 400 years before his birth.
The beginning of last Saturday's first Mass reading, and the end of the previous day's, capture the vision his mother was told would be the antidote. Wisdom 13:8-9 captures the analogy of the human creative mind with the Mind of God. Wisdom 18 is a 'type' of (fallen) creation's fulfilment by the Word made flesh, at Bethlehem – though Whom creation was made.
Ch. 13:8-9 (end of last Friday's 1st reading, RSV)
Yet again, not even they are to be excused;
for if they had the power to know so much
that they could investigate the world,
how did they fail to find sooner the Lord of these things?
Ch. 18:14-16 (beginning of last Saturday's 1st reading, RSV).
For while gentle silence enveloped all things,
and night in its swift course was now half gone,
thy all-powerful Word leaped from heaven, from
the royal throne,
into the midst of the land that was doomed,
a stern warrior
carrying the sharp sword of thy authentic command, and stood and filled all things with death,
and touched heaven while standing on the earth.