Faith Online Conference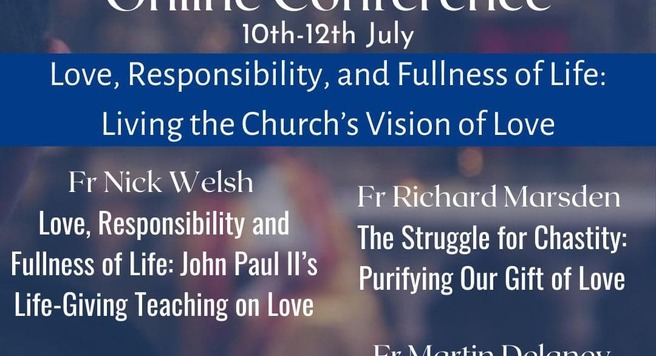 Love, Responsibility, and Fullness of Life :
- Living the Church's Vision of Love.
In light of the COVID19 Pandemic, the Faith Movement made the decision to cancel our usual Faith Summer Session, but we are glad to be hosting an online conference in it's place!
If you're 18-35, please join us via Zoom over the course of a weekend to hear some fantastic talks on the Church's vision of love.
Talk One:
Love, Responsibility and Fullness of Life : John Paul II's Life-Giving Teaching on Love.

- Fr Nick Welsh
Talk Two:
The Struggle for Chastity : Purifying Our Gift of Love.

- Fr Richard Marsden
Talk Three:
Prayer and Conversion : Our Relationship with God and Our Relationship with Others.
- Fr Martin Delaney
Talk Four:
Christ's Sacrifice as the Model for Loving.
- Fr Ross Campbell
Cost: Free! (because the way bookings are set up you will have to click proceed to paypal to complete the booking but you won't be redirected at that point and instead the booking will be registered)
Closing date for bookings : Friday 3rd July
NB : please ignore dietary requirements on our usual booking form as they are of course not required