Featured
Next year, 2020, will see the re-dedication of the faithful people of England and Wales to Mary.
Scotland was thus dedicated in 2017 in a powerful ceremony at the Marian grotto in Carfin. Now it is England's turn.
This dedication has a notable history. Back in 1381 in the reign of Richard II, following a time of social unrest, the king presented England to Mary as her "dowry". The event was recorded in a finely detailed painting which has become known as the Wilton Dyptych: it shows the monarch, flanked by St John Baptist, St Edward the Confessor and St Edmund of East Anglia, kneeling before Mary who holds out the Christ-child wrapped in cloth of gold and is surrounded by flower-crowned angels with soaring wings pointed Heavenwards.
Read More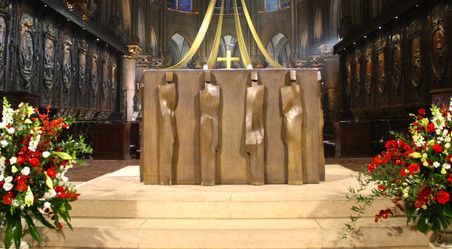 Mark Higgins explores the message of Teresa Higginson
Teresa Higginson, until very recently, was described on Wikipedia as a "famous Welsh Catholic", but this was hardly the case at all. By providence or chance Teresa's birth in 1844 did happen to occur during a family pilgrimage to the Shrine of Holywell in North Wales, but to two very English parents, her father, from a Lancashire family with recusant roots, and her mother, of personal conversion.
Teresa grew up, as it were, on the frontiers of the expanding English Catholic mission, with her family home acting as a lodging house for travelling clergy and even as a chapel for Mass in the days before the building of her local parish church in Gainsborough, Lincolnshire. Visitors to the Higginson household included prominent figures of the period including Fathers Ignatius Spencer, Fredrick Faber and Dominic Barberi.
Read More