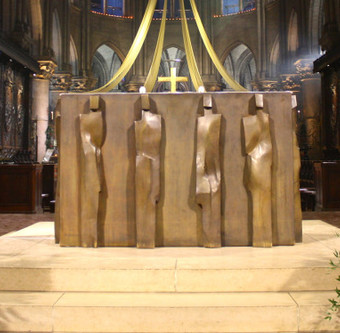 A mystic from Lancashire, and devotion to Divine wisdom
Mark Higgins explores the message of Teresa Higginson.
Teresa Higginson, until very recently, was described on Wikipedia as a "famous Welsh Catholic", but this was hardly the case at all. By providence or chance Teresa's birth in 1844 did happen to occur during a family pilgrimage to the Shrine of Holywell in North Wales, but to two very English parents, her father, from a Lancashire family with recusant roots, and her mother, of personal conversion.
Teresa grew up, as it were, on the frontiers of the expanding English Catholic mission, with her family home acting as a lodging house for travelling clergy and even as a chapel for Mass in the days before the building of her local parish church in Gainsborough, Lincolnshire. Visitors to the Higginson household included prominent figures of the period including Fathers Ignatius Spencer, Fredrick Faber and Dominic Barberi.
Family and school
We know only a little of her childhood, except that her family was large, loving, and deeply Catholic, and that from the ages of ten until eighteen Teresa boarded and was educated at the Convent of Our Lady of Mercy in Nottingham. It was there, inspired by the vocational commitment of her religious teachers, that she received the desire to commit her own life to the education of children.
Teresa's first teaching position was at St. Alexander's in Bootle, and in this period she successfully acquired the formal qualifications necessary to teach within the Catholic educational sector. Teresa loved her children and they quickly grew to love her. The parish priest, Fr. Powell, was also impressed with his newly qualified teacher, both in the infectious enthusiasm that she committed to her vocation, and to the spiritual depth he perceived in her soul. Fr. Powell became Teresa's first real spiritual director, his work being succeeded by Fr. Edward Snow, who together provide us with the most important sketches we have of Teresa's spiritual growth and maturity.
A teaching career
In some respects Teresa's life followed the usual course events for a female Catholic teacher in the19th century. Prior to legislation in 1919, married women were precluded from to working as teachers in England, and so Teresa's choice to remain single as a commitment to her vocation was hardly out of the ordinary. The fact that Teresa's forty year teaching career brought her to perhaps 6 different schools around the country is also hardly extraordinary, given, firstly, her rather precarious health that could leave her out of action for months at time, and secondly, the ease with which a Catholic teacher could be moved to a new task by a pastor based on local needs, or his own whim.
The longest continual stretch of work for Teresa was in Bootle, and it was here that Teresa, whilst lodging with other young female teachers, received and promoted a seemingly unusual Catholic devotion: devotion to the Sacred Head of Christ.
In reading about the life of Teresa, quite often the biographer fails to take her own terms, focusing various strange spiritual phenomena purported to her(1) rather than "the all absorbing interest of (her) life" (2), which she considered to be the promotion of the Sacred Head of Jesus Christ as the seat of Divine Wisdom.
The Sacred Head
What does it mean to have a devotion to the Sacred Head? Well, Teresa saw this devotion as the fulfilment and completion of the devotion to the Sacred Heart so popularised by St. Margaret Mary.
For Margaret Mary devotion to the Sacred Heart was a supernatural response to the errors concerning the affection or love of Christ for us, errors such as Jansenism which underappreciated the ardent love of Christ for all men, and distorted the meaning of His atoning sacrifice for us as something merely punitive and legal. For Teresa, the devotion to the Sacred Head was a supernatural response to affronts against the intellect of Christ, of His Divine Wisdom, which she saw as violated by the secular ideologies of her day. (3)
Intellectual
At a fundamental level the intellectual landscape of the second half of the 19th Century was not so different from ours. The current was already towards a background of scientific 'rationalism' in Philosophy, and in Theology, and a theological Modernism that demanded a 'demythologising' of Sacred Scriptures. Teresa received from God an understanding that devotion to the intellect of the Incarnate Logos as governing and ruling all creation from the Sacred Head of Christ and guiding all the volitional movements of His Sacred Heart would provide an answer to the great crisis of her times which has continued unchecked into ours. (4)
As Teresa's life drew to a close she seemed aware that her vision, the devotional emphasis that she had been given, was something that would mature, and ripen, and come into full force only in a later era, (5) and whilst Teresa was never taught when and how this would come to pass, she was certain that it would do great things in this country of England and that it would help to bring back many of the separated brethren into to the True Fold. (6)
Mystical
By the time of Teresa's death, various bishops and significant clergy were in favour of the promotion of her new devotion, but others still uneasy - largely due to a concern, not so much with the nature of the devotion, but rather to the purported mystical phenomena surrounding Teresa's biography. (7) By the 1930s however Teresa's posthumous reputation reached its zenith, and a cause was put forward to Rome for her beatification. This presented her firstly as the model Catholic school teacher, devout, loved by her pupils and exemplary in her methods, and, secondarily, acknowledged the mystical phenomena associated with her and with the devotion of the Sacred Head. (8) Her cause became a battleground within English Catholic intelligentsia as they divided over what kind of signal such a beatification would give towards the secular world. There were significant prelates and theologians on both sides, and amid the backdrop of such division Rome quietly shelved the cause, issuing a "non expedire", at which stage her cause remains to this day. (9)
Popular interest
It was during this period of popular interest in Teresa Higginson that the origins of the theology of the Faith Movement can also be traced. At least historically, the two coformulators, or co-recipients, of the Faith Vision, Agnes Holloway and her son Edward Holloway, clearly understood a real link, a continuity, between the devotion to Christ's Sacred Head as the Seat of Divine Wisdom, and their own emphasis upon Christ as the Master Key to the meaning of the universe. In effect, the Holloways considered the theology of the Faith movement as a kind of translation of the truths of the Teresa's devotion to Christ's Sacred Head into the realm of theology, an academically rigorous theology which aims to re-present the entire Catholic Faith systematically through the framework of Christ, the Eternal Wisdom Incarnate through whom all things were made, His Sacred Head crowned as King of the Cosmos and Lord of History. (10)
New Synthesis
Fr Holloway suggested that in his New Synthesis of Faith and Reason we find, at least in embryonic form, the springboard from which to utilise this devotion as an intellectual response to the scourges of rationalism and atheistic materialism, those false ideologies which afflicted the Sacred Head of Christ and continue to poison the minds of the young and impressionable. (11) The biography of Agnes Holloway demonstrates her own personal devotion and admiration of Miss. Higginson, and it shows moreover her personal intuition that a profound link existed between the ideas she had formulated or received, and those of Teresa,(12) and indeed, Fr. Holloway informs us that the earliest copy of Mrs. Holloway's book "God's Master Key" was sent to the postulator of the cause for Teresa Higginson.(13) In his July 1983 Faith Magazine editorial Fr Holloway personally re-echoes the opinion of his mother, acknowledging both the authenticity of Teresa's revelations and their theological elucidation and development through the Faith Vision. (14)
Teresa's writings, as might be expected, are deeply mystical, and unfortunately only fragments of her letters have been published. Among these, two quotations stand out as clearly paralleling with the thought of Edward Holloway. The first is, "He (God) showed me (…) how man, by mad folly, tries also to rob nature of its God, (trying) to prove that matter is eternal and creative in itself and that there is no God or need for a God (…) that so matter and nature are creative of themselves and need no creative or providential power to call them into being or maintain them in existence". (15) Here Teresa's thinking concords with Holloway's constant refrain that matter cannot be conflated with mind, but that matter is that which is controlled and directed by Mind, that the existence and development of the universe requires Mind and reflects a Mind. (16)
Incarnate Wisdom
The second quotation was identified by Agnes Holloway herself, taking it as an indication of the closeness of their ideas. This reads, "Christ, God made man is the beginning and end of all Creation and His knowledge and Wisdom are infinite as they are eternal". (17) This demonstrates that not only did Teresa see the Incarnate Wisdom as the personal law-giver and pattern of human living, as echoed in her prayerful refrain, "O Wisdom of the Sacred Head guide me in all my ways", (18) but also that, like Agnes Holloway she understood the Wisdom of God as both guiding creation and being its culmination through the mystery of the Incarnation. In Faith, this idea is expressed in terms of the Unity Law of Control and Direction, theological terminology which refers to the created participation or "imprint" of that Eternal Wisdom enshrined in the Head of God incarnate, (19) a concept which is ultimately nothing more than an amplification of the theology behind the Johannine prologue. (20)
Perspective
The author's personal perspective is that a devotion to the Sacred Head of Christ as the Seat of Divine Wisdom not only provides a basis for an engagement with contemporary philosophical debates as Teresa saw it, but also carries a content capable of responding to another great crisis of this moment- the false conception of love now prevalent in public discourse, a love that is purely will and affect, cut loose from reason and nature. Fr Holloway develops this line of thought with detail in Catholicism: A New Synthesis, Chapter 21, "Love the Quest for the Holy Grail" and his pamphlet "Sexual Order and Holy Order". A devotion to the Sacred Head as the Seat of Wisdom guiding all the movements of His Sacred Heart reminds fallen man that all too often "the heart is deceptive" (Jer. 17:9), and of the Christian imperative to have "the same mind" as Christ (Phil. 2:5).
Divine Wisdom
We are called to commune our autonomy to the governance of Divine Wisdom, for His law to be, as it were, our environment, the means of our true flourishing. In order for fallen and confused humanity to access this wisdom, this law that it is so in need of we must look towards the Catholic Church which, for both Holloway (21) and Teresa, (22) has been established by God as
the infallible teacher of the Wisdom of the Sacred Head throughout history.
There are undoubtedly many overlaps between the thinking of Teresa, the school teacher from Lancashire and Agnes the housewife from South London, links certainly biographical or historical, but also, as this article has argued, theological connections which complement each other, while coming from different angles and expressed in different ways. It is to be hoped that the publishing of a greater number of Teresa's letters might enable a deeper study into these connections, and work to enrich still further the spirituality of the Faith Movement.
"Then let all creatures acknowledge, praise, bless and love this Wisdom, let them adore the Sacred Head of Jesus as its Seat" (from Teresa's "Prayer to Mary").
Notes:
1 Cuprits include, the recently published article in the Catholic Herald, Simon Caldwell, "" In Catholic Herald, October 26 2018, and to a lesser extent, Whittington-Egan, Richard, "The Devil in Bootle", The Bluecoat Press, 2010.
2 Kerr, Cecil. "Teresa Helena Higginson- Spouse of Jesus Crucified", Gracewing Publishing 2008. Ch 7.
3 For an extensive and insightful comparison seen, Findlay-Wilson, Christopher, "Devotion to the Sacred Heart" in "Faith Magazine", May-June 2002.
4 Letter 67 quoted in Chapter 8 "Devotion to the Sacred Head (cont.)" in Kerr, Cecil. "Teresa Helena Higginson- Spouse of Jesus Crucified", Gracewing Publishing 2008.
5 Ibid. Letter 136
6 Ibid. Letter 99
7 Whittington-Egan, Richard, "The Devil in Bootle", The Bluecoat Press, 2010, chapter 11.
8 Heimann, Mary, "medical and mystical opinion in British Catholicism" in Van Osselaer et. al. "Sign or Symptom?Exceptional Corporeal Phenomena in Religion and Medicine in the 19th and 20th Centuries" p91
9 Ibid. p99.
10 Holloway, Edward. "Matter and Mind: A Christian Synthesis", Faith-Keyway 2016, p. 203.
11 Holloway, Agnes. "God's Master Key: The Law of Control and Direction", Keyway 1988, p.54.
12 Holloway, Agnes. "God's Master Key: The Law of Control and Direction", Keyway 1988, p.102.
13 Holloway, Edward. "Introduction" in Holloway, Agnes. "God's Master Key: The Law of Control and Direction", Keyway 1988, p.5.
14 Holloway, Edward, "The Son of Man: A Meditation upon Psalm 8", Editorial, Faith, Vol. 15, no. 4, July/August 1983.
15 Letter 137 quoted in Chapter 8 "Devotion to the Sacred Head (cont.)" in Kerr, Cecil. "Teresa Helena Higginson- Spouse of Jesus Crucified", Gracewing Publishing 2008.
16 Holloway, Edward. "Matter and Mind: A Christian Synthesis", Faith-Keyway 2016, p. 35.
17 Letter of Teresa Higginson quoted in Holloway, Agnes. "God's Master Key: The Law of Control and Direction", Keyway 1988, p.102.
18 Whittington-Egan, Richard, "The Devil in Bootle", The Bluecoat Press, 2010, p.158
19 Holloway, Edward. "Matter and Mind: A Christian Synthesis", Faith-Keyway 2016, p. 89.
20 Ibid. Chapter 9, "And the Word was made Flesh"
21 Ibid. Chapter 18, "The Church of Christ"
22 Letter 48a quoted in Chapter 7 "Devotion to the Sacred Head" in Kerr, Cecil. "Teresa Helena Higginson- Spouse of Jesus Crucified", Gracewing Publishing 2008
Fr Mark Higgins is a priest of the Southwark diocese