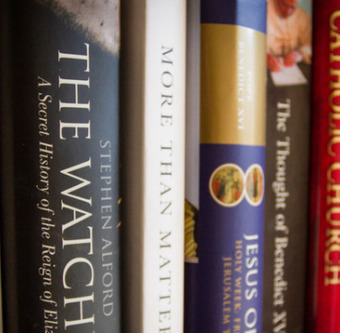 Book Reviews: From unforgiveness to forgiveness
God's Healing Mercy. Finding Your Path to Forgiveness, Peace and Joy
by Kathleen Beckman,
L.H.S. Sophia Institute Press, 186pp, £15.25.
reviewed by Claire Waddelove
"Sophia Institute is a non-profit institution that seeks to nurture the spiritual, moral, and cultural life of souls and to spread the Gospel of Christ in conformity with the authentic teachings of the Roman Catholic Church."
Kathleen Beckman's book certainly fulfils this aim. It is an ecclesial work, a wholly orthodox, clear, practical and readable exposition of many aspects of divine mercy. The importance of the sacraments is highlighted, particularly sacramental confession. Well documented, her sources include the Gospels, the Catechism of the Catholic Church, papal teachings and writings of the saints. Not surprisingly, St. Faustina's diary figures prominently, and several passages of The Imitation of Christ are quoted. References are helpfully given as footnotes, including a number from the internet.
A tool-box to be used
Each of the twelves chapters follows the same format. There is a particular focus: Rays of Mercy on …' You, The Family, The Universal Church, Marriage etc.; and the transformation needed: 'Healing from … ' e.g. Unforgiveness to Forgiveness, followed by an opening quotation, usually from a papal document or address. A brief summary of the aims and content of the chapter is given, and a dozen or so pages are devoted to the theme, with several sub-headings. There follows a profile of an ecclesiastical figure who exemplifies the subject under discussion, and the chapter concludes with a Personal or Group Spiritual Exercise. This consists of (a) a passage from the Gospel, (b) questions for reflection, e.g. "Think of a time when you had great difficulty in forgiving yourself or someone else. Can you identify the root cause of the unforgiveness?" (c) God's Letter to You – usually an extract from a piece of devotional writing, (d) a blank page for Your Letter to God. Some readers might jib at this, but it is only an invitation to compose a prayer, which many saints have done.
The style is simple and light; there is nothing heavy or turgid, nothing merely academic. The chapters are 'airy', with plenty of space. In several of them, effective use is made of bullet points, e.g. on pride, gleaned from St. Catherine of Siena's book The Dialogue. It is an easy book to read, and the biggest temptation might be to skim through it too quickly, which would not be profitable. It could be described as a tool-box to be used, or a map of a journey to be made. It requires engagement with heart and soul, and time to ponder, taking no more than one chapter at a time.
No false notions
Written initially for the Holy Year of Mercy, the topics covered are for all times. The transformations – from fear to trust, from pride to humility, from no to yes, etc – form part of everyone's spiritual journey. For some readers, there will be information that is instructive; for the more seasoned, the benefits will be largely in stirring the heart and strengthening the will. Of course, it will take more than the reading of one book to accomplish the desired effects - it is the work of a lifetime – but everything that helps us along the way is to be welcomed.
While the book is essentially positive and encouraging, it is all solid stuff. There is nothing wishy-washy, no compromise, no false notions of a forgiving God who doesn't care what we do. On the contrary, it calls us to conversion of life and purity of heart.
Prayer is life
The author knows how to make an impact, often using short pithy sentences to good effect: "Peace of soul is the tranquility of order; an ordered heart, an ordered life according to God's precepts" (p.55). "No vocation is the fulfilment of all human desire. Only God fulfils." (p.89) "Mercy is self-emptying love." (p.74) "Saying no to God is never a good idea. The consequences are real and serious." (p.83) "The powerlessness of lethargy and discouragement is a temptation." (p.100) "Confession is the powerful step toward healing and deliverance and often takes care of a myriad of demonic ailments." (p.115) "Baptismal grace is dynamic, and we can draw from it throughout our life." (p.119) "The world is full of evil because of our free will." (p.160) "For Catholics, prayer is life." (p.162)
Beckman draws considerably on her personal experience, with the result that there is, perhaps, too much use of the pronoun "I". There is a positive side to this, though, as it is clear that she knows what she is talking about. The most impressive example is her account of the murder of her father-in-law, and the long hours of prayer she spent before the Blessed Sacrament which brought her to forgiveness. She also cites other inspiring examples of people she has met: the joyful 80 year old priest in Trinidad who cares for seven parishes, and the home-schooling mother of eight children who rises early every morning in order to start her day with a holy hour.
Peace in the heart
Male readers might find some pages too feminine, though most of the favourable reviews cited in the opening pages of the book were written by men. My only other criticism is of the language used. It is modern American and can at times be jarring; "Mary's yes to the Trinity required a decision to surrender, self-empty, and sacrifice to birth Jesus, the Incarnate Word, into the world." (p.85)
This is not a literary masterpiece, then, but a sound, useful book. I don't think anyone could read it without gaining something from it. The passage which resonated most for me was the extract from the Vietnamese Cardinal (now Venerable) Van Thuan's testimony: his resolution after his arrest, "I will not spend time waiting – I will live the present moment and fill it with love." And, "When I began to discern between God and God's works, when I chose God and His will, and left everything else in His hands, and when I learned to love others, especially my enemies, as Jesus loved me, I felt great peace in my heart." (pp.76-77)
Notes:
Sr. Claire Waddelove belongs to the Benedictine community at St. Cecilia's Abbey, Ryde, Isle of Wight.