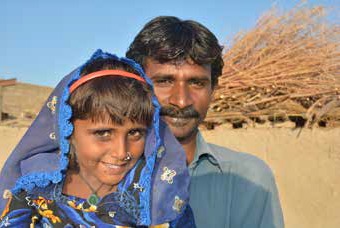 Christian courage in the face of persecution
"During my detention, I held the hand of Christ. It is thanks to him that I have stayed standing. Do not be afraid."(1)
The words of Asia Bibi – spoken in an interview she gave this February to Catholic charity Aid to the Church in Need – provide a glimpse into the trauma one woman suffered. Hers was a story of terrible injustice which gripped the world's media.
Her 10 years behind bars made Asia's struggle to regain her freedom a cause celebre. And her case is all the more notable for the fact that Asia was the first woman in Pakistan sentenced to death for blasphemy. Central to her conviction, as became apparent in the protracted court proceedings she endured, was the fact that Asia is a Christian. She suffered because of her faith.
For this reason, her story and the worldwide attention it garnered is unique in the sphere of news reporting on human rights abuses. Rarely if ever has the media rallied to the cause of a persecuted Christian.
In highlighting the significance of the Asia Bibi story, this article sets out to demonstrate that, while it was remarkable that she should finally win back her freedom, there is as yet no breakthrough in the wider struggle for the defence of Christians and other oppressed religious minorities in Pakistan. They routinely experience egregious persecution and yet it is largely ignored by the West.
As a Catholic charity committed to the cause of supporting persecuted Christians, Aid to the Church in Need is working to enable justice for people who, like Asia Bibi, have been accused of blasphemy, not least the 30 or more Christians currently behind bars.
Context: Islamisation of society
To understand Asia Bibi's story and the scale of the threat for those facing blasphemy accusations, it is necessary to chart the rise of Islamism in Pakistan and its increasingly dominant role within the State and society.
Asia Bibi was sentenced under Article 295C of the Pakistan Penal Code (PPC), which imposes the death penalty for blasphemy against the Prophet of Islam, Mohammad.
Article 295C is part of a series of amendments to the PPC that were introduced in the early to mid 1980s in the time of Muhammad Zia-ul-Haq, who became President of Pakistan in 1977. By putting in place what came to be known as the blasphemy laws, President Zia set Pakistan on a path that placed the honour of Islam at the pinnacle of the country's system of law and order, imposing the harshest crimes for offenders.(2) Article 295B, for example, imposes life imprisonment for offences relating to defiling the Qur'an. Zia went much further than his predecessor in committing himself to establishing an Islamic state and Shari'a Islamic law. Indeed, the primary policy of Zia's government was "the Islamisation of institutions".(3) In so doing, Zia can be accused of going against the spirit of Muhammad Ali-Jinnah, the founding father of Pakistan and first premier.
Madrassas
When Pakistan first came into being in August 1947, following the partition of British India, he had proclaimed: "You are free; you are free to go to your temples. You are free to go to your mosques or to any other places of worship in this state of Pakistan. You may belong to any religion, caste or creed – that has nothing to do with the business of the state." (4) Among the many other Islamisation initiatives President Zia-ul-Haq undertook was state sponsorship of religious madrassas (Islamic schools). At the time of partition in 1947, there were a reported 181 madrassas but the numbers grew exponentially during Zia's time, rising to 2,801 at the end of his 11-year presidency.(5) The madrassas, which banned television and radio, came in for criticism by human rights observers for creating a climate of tension and sectarian hatred between different groups of Muslims (notably Shi'a, Sunni and Ahmadi) and against non-Muslims. Reports suggest that there may now be 30,000(6) madrassas in Pakistan. Other research gives a figure of more than 35,000 madrassas with a total of 3.5 million students enrolled.(7) Research of madrassa students indicates they are more intolerant than other student groups.(8) Aid to the Church in Need receives frequent reports that societal mistrust and sometimes contempt for Christians and other minorities fuels abuse of the blasphemy laws; the rule of law is often compromised by the power of the mob. Again and again, attacks on Christians and other
minorities sparked by blasphemy allegations show a determination by intolerant Islamist groups to take the law into their own hands and carry out summary justice. In the mind of such groups, the mere suggestion of an offence of blasphemy obliges observant Muslims to take it upon themselves to ensure the honour of the Prophet of Islam is upheld at all costs. And the execution of this form of justice sends out a further signal that Christians and other minorities are tolerated provided they strictly uphold the dignity of Islam.
All this helps to explain how it came to be that for Asia Bibi a day that started out like any other ended in complete catastrophe.
The Asia Bibi story
On the morning of 14th June 2009 Asia Bibi and a group of fellow women labourers set off to begin work harvesting berries in the Sheikhupura district, 30 miles west of Lahore.
As the heat of the summer sun grew stronger, Asia offered to fetch water for the party of workers. Two of them rejected her offer. In the witness testimony she was to give later, Asia explained what happened that fateful day:
"They refused [the water], saying that, since I am a Christian, they will never take water from my hand. Over this, the quarrel ensued and some hot words were exchanged between me and the… ladies. The [ladies] then approached [Imam] Qari Saalam. The [ladies] were conspiring with Qari Saalam got a false, fabricated case against me."(9)
It was alleged that she had made blasphemous statements against the Prophet of Islam, Mohammad, comments the prosecution were to describe as "defamatory and sarcastic".(10) The prosecution would later claim that she confessed her crime but it then emerged that she had done so only when a large crowd gathered round her and threatened to kill her. Asia insisted she was innocent but to no avail. She was found guilty under Section 295C of the Pakistan Penal Code – defamation of the Muslim Prophet – and on 8th November 2010 the Lahore High Court sentenced Asia Bibi to death by hanging.
Freedom
It would take more than eight years for Asia Bibi to win back her freedom. Others were to give their life for daring to suggest justice may not have been done in this case. Salman Taseer, the Minister of the Punjab, who had publicly intervened in her case, was assassinated by Mumtaz Qadri, one of his bodyguards, on 4th January 2011. Almost exactly two months later, Shahbaz Bhatti, Federal Minister for Minorities and, like Asia, a Catholic, was shot dead as he was being driven to work in the capital, Islamabad.
After five postponements, Lahore High Court finally heard her appeal on 13th October 2014 but it was refused. Undaunted, six weeks later, Asia's lawyers submitted an appeal to the Supreme Court of Pakistan, citing "glaring contradictions" in the witnesses' testimonies.(11)
It would be eight months before the Supreme Court admitted her appeal. During the course of 2015 and 2016, the appeal hearing was postponed three times. Finally, on 8th October 2018, the appeal hearing went ahead and on 31st October the Supreme Court sensationally quashed the conviction. The judges found that her "alleged confession… resulted out of coercion and undue pressure"; they noted the "inordinate delay of about five days"(12) in lodging the First Instance Report (FIR) and highlighted "many discrepancies/inconsistencies in the statements".(13)
Dramatic story
But it would be another six months before Asia Bibi would taste freedom. Enraged by the Supreme Court's decision, the Islamic Tehreek-i-Labaik Pakistan (TLP) party led protests that caused "gridlock across the country"(14). In response, the new government of Prime Minister Imran Khan compromised, preventing Asia from leaving the country. An appeal against the Supreme Court's decision was allowed to proceed. But its October 2018 verdict was upheld and in May 2019 Asia's wish to leave Pakistan was granted and she joined her family in Canada where they had been offered asylum. Seeking asylum in France in February 2020, Asia Bibi and family travelled to Paris and there they met President Emmanuel Macron. A book on her story 'Enfin Libre' ('Finally Free') was launched, reigniting press interest in her dramatic story of justice achieved against all the odds.
Other blasphemy cases
Against the backdrop of Asia Bibi's triumph is the plight of countless other cases of blasphemy in Pakistan – past and present. In the 30 years since the laws were amended to become what they are today, the Catholic (National) Commission for Justice and Peace (NCJP), a Catholic organisation in Pakistan supported by ACN, has recorded details of 1,560 victims of blasphemy.(15) A breakdown of the individuals, according to religion, demonstrates the degree to which faith minority groups are disproportionately targeted. Majority Muslims, who are 95 percent of the population, make up only 50 percent of blasphemy cases (777 individuals). Minorities, notably Ahmadis, make up the rest. With 232 victims, Christians account for 15 percent of cases, even though they represent less than 1.5 percent of the population(16).
Victims
To put it mildly, the case against many such victims is questionable. Particularly notable among the cases is that of Shagufta Kausur and her husband, Shafkat Emmanuel. Shagufta's profile is very similar to that of Asia Bibi. An illiterate Christian woman, she too was placed on death after being found guilty of blaspheming against the Muslim Prophet.(17) Even though reports indicate that neither she nor her husband speak English, Shafkat is accused of using her phone to text a message in English to an imam containing blasphemous content. At the time of writing, a verdict in their case was due to be heard in April 2020.(18) An examination of many of the cases shows that accusers of blasphemy are likely to have an ulterior motive – a vendetta or an altercation over an asset such as property. When Nadeem Samson, a Christian man from Lahore, was arrested following a blasphemy allegation in late 2017, it emerged that there was a long-standing dispute over property involving his family and a Muslim man. The case of Farhan Aziz, a man from Gujuranwala, in the populous Punjab province, once more centres on a blasphemous mobile phone text but again ulterior motives are attributed to his accuser amid reports that the 26-year-old Christian had demanded the return of money he was owed.(19)
In trips colleagues and I have made to Pakistan as part of our work with Aid to the Church in Need, concerns have been repeatedly raised that the blasphemy laws are routinely abused; without proper enforcement, checks and balances, they provide a convenient club with which to beat minorities. Only a few individuals need to be targeted for the threat of a blasphemy allegation to send fear and trepidation throughout the ranks of all those who belong to disenfranchised faith communities. I remember meeting Yusif Said, a Christian buffalo tradesman, who was accused under Code 295B of the Penal Code, of defacing or damaging text containing verses of the Qur'an. Rather than leaving it to the police and the courts, the mob took justice into their own hands; they hounded Yusif from the town and set fire to the town's Presbyterian church, the Catholic church, the houses (presbyteries) of the clergy from both churches and a convent. The message to the community could not be clearer; being a Christian puts you in the line of fire. I met Yusif at a safe house where he was living in hiding. He told me: "I know that a lot of my problems would disappear immediately if I changed my faith. But I would rather be beaten and put to death than change my faith. It is Christ's love which has saved me."(20)
ACN – reaching out to help victims of blasphemy
• And it is this expression of faith, so typical of the many Christians that we meet on our travels to Pakistan, that emboldens Aid to the Church in Need to act in whatever way we can to support them. The charity is committing to the following:
• Supporting the National (Catholic) Commission for Justice and Peace (NCJP). An agency of the Catholic Bishops' Conference of Pakistan, the NCJP provides legal and para-legal aid, supporting Christians who need lawyers and whose family need food, medicine and schooling in the absence of bread-winners arrested for alleged
blasphemy crimes.
• Supporting women forced into hiding as a result of sexual crimes. Refuge centres have been set up for women desperate to escape abusive relationship, often involving abductions, forced conversions and rape by Muslim men who consider Christian women to have no rights.
• Providing catechesis and Christian education to Christian communities living in pseudo-feudal working conditions, labouring at brick kilns and other factories, many of them paid very poorly and forced into debt to provide food for their families.
In January 2020, with Aid to the Church in Need's help, the NCJP secured a huge victory for justice when, as a result of a legal appeal, a conviction was overturned involving more than 40 Christian men from Youhanabad, a district outside Lahore, who were jailed for allegedly lynching two Muslim men.(21) The deaths in spring 2015 followed a mass uprising in which Christians in Youhanabad protested against alleged police inaction in the case of suicide bomb attempts on two churches in the district packed with Sunday worshippers. Aid to the Church in Need went further, agreeing to fund a programme of rehabilitation devised by Catholic Archbishop Sebastian Shaw OFM of Lahore. As well as trauma counselling, the scheme, approved in February 2020, involves funding for business startup initiatives. In a break with standard ACN projects, the scheme also involves the erection of a basketball court to enable the Christian men and others in the local community to find a new outlet involving physical exercise, team building and community building.(22)
This project builds on the work ACN undertook to restore St John's Church, Youhanabad, following the bomb-blast. I was fortunate to be able to visit the church soon after it was repaired by ACN. Father Francis Gulzar, the vicar general of Lahore Archdiocese and parish priest of St John's, told me that ACN's support had helped the community recover from their trauma. He said: "What would I have done without you."
Essential
An essential part of ACN's work involves encouraging communities deeply traumatised by false blasphemy accusations which so often have unleashed mob violence. The charity's decision to make Pakistan a priority county for aid reflects the urgent need to demonstrate to the persecuted faith communities that they are not alone.
In his Foreword for ACN's 2019 'Persecuted and Forgotten? A Report on Christians oppressed for their Faith', Cardinal Joseph Coutts, Archbishop of Karachi, Pakistan, wrote: "In recent years, there has been a growing intolerance in society, aggravated by the growth of militant and extremist Islamic groups such as the Taliban and others." He added: "The government provides armed police protection, whenever we request it for church services or gatherings. But militant groups have become difficult to control, thus leaving us in a state of constant tension, knowing at the back of our minds that somewhere at some time there is going to be another attack – where or when is anybody's guess. Yes, we do have the freedom to believe and to practise our faith, but we have to be ready to face the wrath of those elements in our country who have a different mind-set. The words of Jesus to his disciples are there to remind us what His followers should expect: 'If they persecuted Me they will also persecute you.' (John 15:20)."(23)
Notes:
John Pontifex is Head of Press & Information, Aid to the Church in Need (UK)
For more information about Aid to the Church in Need and how to support suffering Christians in Pakistan, visit www.acnuk.org
1 John Pontifex and Thomas Oswald, 'PAKISTAN – Asia Bibi: My faith has saved me', ACN News, 27 February 2020, [https://acnuk.org/news/pakistan-asia-bibi-my-faith-has-saved-me/-] Accessed 14 March 2020 as were all sites cited below, unless stated to the contrary.
2 'Blasphemy Laws in Pakistan – The World's Most Draconian Law?, The EurAsian Times, 23 June 2017, [https://eurasiantimes.com/blasphemy-law-pakistan/]
3 M Dawood Mhoammadi, 'Causes of General Zia ul Haq's Islamization Program', South Asian University, 11 November 2017, p. 2 [https://www.researchgate.net/publication/325653742_Causes_of_General_Zia_Ul_Haq's_Islamization_Program]
4 Shahzeb Jillani, 'The search for Jinnah's vision of Pakistan', BBC News, 11 September 2013, [https://www.bbc.co.uk/news/world-asia-24034873]
5 Zenra Naviwala, 'Religious Education in Pakistan's Madrassas & the Facilitation of Child Trafficking: A Flaw in Western Perceptions', [https://ocw.mit.edu/courses/anthropology/21a-445j-slavery-and-human-trafficking-in-the-21st-century-spring-2015/assignments/MIT21A_445JS15_Religious.pdf]
6 Islamuddin Sajid, 'Modernizing madrassa: Pakistan's response to tackle extremism', Anadolu Agency, 25 May 2019, [https://www.aa.com.tr/en/asia-pacific/modernizing-madrassa-pakistan-s-response-to-tackle-extremism/1488916]
7 'Report says over 35,000 madrassas operating in Pakistan', Pakistan Today, 31 July 2015 citing Umair Khalil, HIVE, 'The Madrassa Connundrum – The state of religious education in Pakistan' [https://www.pakistantoday.com.pk/2015/07/31/report-says-over-35000-madrassas-operating-in-pakistan]
8 Ibid; survey by Tariq Rahman
9 'Statement of the appellant recorded under Section 342 Cr.P.C ' given in Criminal Appeal NO.39-L OF 2015 Against the judgment dated 16.10.2014 of the Lahore High Court, Lahore passed in Crl.A.No.2509/2010 and M.R.No.614/2010, p.20 [https://www.supremecourt.gov.pk/web/user_files/File/Crl.A._39_L_2015.pdf] accessed 10 April 2019.
10 Mehmal Sarfraz, 'Blasphemy case: Pakistan Supreme Court overturns Asia Bibi's death sentence', The Hindu, 31 October 2018 [https://www.thehindu.com/news/international/blasphemy-case-pakistan-supreme-court-saves-asia-bibi-fromgallows/article25377126.ece] accessed 9 April 2019.
11 'Pakistan court upholds Asia Bibi death sentence', BBC [online], 16 October 2014 [https://www.bbc.co.uk/news/worldasia-29640245]; Madeleine Davies, 'Asia Bibi: no release without international pressure, lawyer says', Church Times, 5 December 2014 [https://www.churchtimes.co.uk/articles/2014/5-december/news/world/asia-bibi-no-release-without-international-pressure-lawyer-says]; Mehmal Sarfraz, 'Blasphemy case: Pakistan Supreme Court overturns Asia Bibi's death sentence', The Hindu, 31 October 2018 [https://www.thehindu.com/news/international/blasphemy-case-pakistansupreme-court-saves-asia-bibi-from-gallows/article25377126.ece]; 'Asia Bibi', Tom Lantos Human Rights Commission [https://humanrightscommission.house.gov/defending-freedom-project/prisoners-by-country/Pakistan/Asia%20Bibi] accessed 16 April 2019.
12 See Criminal Appeal NO.39-L OF 2015 Against the judgment dated 16.10.2014 of the Lahore High Court, Lahore passed in Crl.A.No.2509/2010 and M.R.No.614/2010, §10-11, 13, 15 [https://www.supremecourt.gov.pk/web/user_files/File/Crl.A._39_L_2015.pdf]
13 Ibid., p.32.
14 John Pontifex, 'Will Pakistan's blasphemy laws ever be reformed?', Catholic Herald, 16 May 2019, [https://catholicherald.co.uk/will-pakistans-blasphemy-laws-ever-be-reformed/]
15 Cecil Shane Chaudhry et al, 'The price and locale ignorance: Blasphemy Victims 1987-2019', Catholic (National) Commission for Justice and Peace', March 2020.
16 Ibid.
17 Asif Aqeel, 'Asia Bibi's Cell Now Holds Another Woman on Death Row for Blasphemy', Christianity Today, 10 May 2019, [https://www.christianitytoday.com/news/2019/may/asia-bibi-lawyer-malook-shagufta-shafqat-blasphemy-pakistan.html]
18 'ASIA/PAKISTAN – Christian couple sentenced to death for blasphemy: appeal verdict in April', Agenzia Fides, 28 February 2020, [https://www.fides.org/en/news/67480-ASIA_PAKISTAN_Christian_couple_sentenced_to_death_for_blasphemy_appeal_verdict_in_April]
19 Cecil Shane Chaudhry et al, 'Prisoners for blasphemy charges 2010-2019', Catholic (National) Commission for Justice and Peace', March 2020.
20 John Pontifex, 'Persecuted and Forgotten? A Report on Christians oppressed for their Faith 2005-2006', Aid to the Church in Need (UK), September 2006.
21 John Pontifex, 'PAKISTAN: Justice and freedom at last', ACN News, 30 January 2020, [https://acnuk.org/news/pakistanjustice- and-freedom-at-last/]
22 John Pontifex, 'PAKISTAN: A sporting opportunity awaits', ACN News, 6 March 2020, [https://acnuk.org/news/pakistan-a-sporting-opportunity-awaits/]
23 John Pontifex and John Newton, 'Persecuted and Forgotten? A Report on Christians oppressed for their Faith 2017-19', p. 7 [https://gallery.mailchimp.com/25a175338ce0562b9d08ed926/files/049a8d93-6780-4659-9488-3a77ee9397ef/ACN_Persecuted_and_Forgotten__2019_W.pdf]