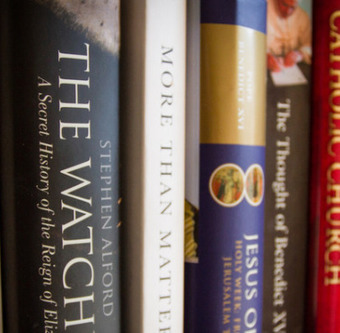 Book Review: Days discovering Mary
Daily Daily Sing to Mary - Celebrating with Our Lady Every Day of the Year
by Paul Haffner, Gracewing, 615pp, £20.
reviewed by Ella Preece
Writing for the centenary of the Visions at Fatima, Fr Haffner has taken the opportunity to put together a collection of events, varying from apparitions and miracles to finding of images of Our Lady, in which Mary has revealed or reminded us of the important message Christ gave to us through His death and resurrection. Based on the Marian calendar composed in the eighteenth century and inclusive of up to date events, Fr Haffner has dedicated each day to Our Lady.
The book is clearly written: each day has about a page and a half dedicated to reflection on the day. The passages are informative, covering the significant details of the event, tying in some catechesis or message from Mary, and are occasionally supported by a comment from Scripture, the Church Fathers or Popes. It offers the chance to discover Mary in some of her lesser known capacities as well as reminding us of the significance of more commonly known occasions such as Fatima and Lourdes.
Unbiased
The book allows the reader to be drawn into the universal nature of the Church, sharing in the small miracles - for example Our Lady of Zell or Mary, Mother of God of Zhyrovichy - and take from them support in our own lives. The book seems to me unbiased in its accounts, giving only an account of what is known. This is notable particularly in the account dedicated to Our Lady of Medjugorje which can be a controversial topic. Fr Haffner states its basic message but is very clear to state that 'Pope Benedict XVI set up a commission to examine the apparitions […] noting a clear difference between the beginning of the phenomenon and its development' which has taken on further research.
Fresh insight
Because of the variety of entries, each day gives you a fresh insight into Mary, bringing us closer to Christ; and because it is more informative it enables the reader to take from the event aspects that can also apply to their own lives. This book is good for those desiring to deepen their devotion to Mary, to those wishing to know more about her interactions with people throughout history and the world. It is also good for families showing how our Faith is still rich and enduring, that God is still with us as Mary's apparitions are a sign of His great desire to draw us back to Himself.
Putting herself in the middle
Devotion to Mary is an aspect of our Faith that brings great benefit in many areas: it helps us to understand our relationship with God better, how we should live our lives as guided by Christ, how we can understand the Church and its guidance. She is also the closest person to Jesus' heart and therefore a great friend, comforter and Mother to us in our personal prayer life. From the moment she said 'Yes' to God, Mary became the mother for all. She realised that the Incarnation was not just for her benefit and salvation but for that of all humanity. As a mother Mary puts herself between her son and mankind, placing before Him their needs. 'She puts herself "in the middle," that is to say she acts as a mediatrix.' The miracles and messages Our Lady continues to remind us of Christ's message and guidance to us. She demonstrates that though the message of truth may be difficult or dangerous one must stand firm and not be tempted to make the message easier or water it down.
Total abandonment
Just as the Church can hope to seek a deeper understanding of Christ's message by continuously contemplating Christ's works and words, so too can we draw from Mary's example. We can strive to have that unfailing faith in times of difficulty, that total abandonment to God in trust. We can ask Mary as our mother to intercede for us. We can honour her as God honoured her in the beginning, by participating in feast days dedicated to her. By doing this we will grow in a deeper understanding, knowledge and love of God in whom we hope to have eternal life. This book can help nurture devotion to Our Lady, particularly following 100 years of Fatima when we were encouraged to pray the rosary and meditate on some of the most significant aspects of Jesus' life.
Sure hope and solace
Pope Pius XII wrote about his desire that the faithful would be 'stirred' with piety towards Mary and that by meditating on her example they would be 'more and more convinced of the value of a human life entirely devoted to carrying out the heavenly Father's will and to bringing good to others.' As members of the Church we are all called to play our part in evangelisation and to recognise the role of Our Lady in this great mission. Mary as the symbol of the Church will 'shine forth on earth, until the day of the Lord shall come, as a sign of sure hope and solace.'
I would recommend this book to all wishing to know more about Mary and her apparitions/messages, those wishing to develop or spend a year in devotion to Our Lady, and families wishing to take a fresh look at Mary guiding us to God. However, it is not a systematic theology book and could not be recommended to anyone wanting answers to specific questions.
Notes:
Ella Preece is a home-educating mother of three, whose hobbies include archery, juggling and general adventuring.