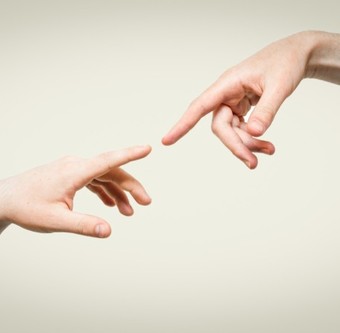 DVD Review – Uplifting Grace
Grace by Fr. Marcus Holden & Fr. Andrew Pinsent, DVD published by St. Anthony Communications, 33 mins £9.95.
reviewed by Carol Ann Harnett
In just over thirty minutes, Frs Marcus Holden and Andrew Pinsent give a good overview of grace, without which we could not live our lives as Christians. Beginning with a clear definition of grace as sharing in the divine life, the "talking heads" style is broken up with images of the modern world and of sacred art. The DVD explains that it seems impossible to share in God's divine life but that grace enables us to enter into the mystery of the Holy Trinity. Throughout the DVD, we are shown how grace is received and its impact on Christian life. Finally the presentation turns to Our Blessed Lady as the one creature who is Full of Grace and as such, she shows us what grace means.
Beyond the ordinary
The DVD opens with scenes of frost and snow, a rather strange opening to such a positive presentation. The scenes are beautiful, but it could recall (as it did for me) C.S. Lewis' The Lion, the Witch and the Wardrobe and the scenes of Narnia before it was rescued by Aslan. Maybe the link was deliberate as it led me to think that it is by grace that our hearts are softened and made capable of receiving the gifts that God wants to give us. However, this is not stated. Instead the commentary begins by noting the secular understanding and use of the word grace, such as implying beauty of character, giftedness, being graceful, all pointing beyond the ordinary. It is suggested that these uses of grace could help us to understand the theology of grace, which is indeed something beyond the ordinary.
The history of salvation is presented as the history of divine grace from Genesis to the book of Revelation; from the loss of divine grace through original sin to the coming of Christ who introduces grace into the human world so that we can be sharers in the divine life (cf. II Peter 1:4). The impact of the Incarnation on man is explained that, as the ancient Fathers said, God became man so that man might be like God (sharing in His divine life). The Incarnation, it is explained, builds the bridge between God and man, but grace is crossing it.
Christ the Vine
It was good to see how Christ's teaching is used visually to explain the mystery of grace at work, such as the vine and the branches and the parable of the sower. It is grace at work in us binding us to Christ as in the vine and producing a harvest by making us into a rich soil. It is by grace that we become what we are meant to be and
can contribute fruitfully in the society in which we live.
It is mentioned that we receive sanctifying grace through the sacraments, but there is not a systematic explanation
of the different types of grace and how they work in us. For a catechetical parish group, this is a shame as it could be the starting point of discussions, especially for those undergoing the RCIA process. It means that the catechists would have to supplement this aspect of the DVD.
Without grace we are nothing
What is encouraging is the discussion of the fact that grace can be lost through mortal sin which is described as an act of "spiritual adultery" but that by repentance and the mercy of God in the Sacrament of Reconciliation, grace is restored in us. The DVD emphasises that for grace to be restored, repentance is necessary. All too often our modern society paints an image of a loving God who forgives regardless. It is good to see this error redressed. In this light, mention was also made of Pelagianism, that we can save ourselves by hard work (a fifth-century heresy that has sadly not gone away), and of St Augustine's response, that without grace we are nothing, with grace we are everything.
The effects of grace on our Christian life are discussed: how do we behave at Mass? Are we aware of God's gift of supernatural grace? Do we allow His grace to enter into our prayer life? (And here the film illustrates this by showing a black and white scene turning to colour). Grace makes us compatible with God. Grace changes us as it builds on our nature enabling us to live "supernatural" lives. (Natural lives are ones lived according to our nature and therefore supernatural lives are lived in ways that extend or go beyond our nature). There is a comparison between the cult of the superpower and "supergrace" with the latter enabling us to enter into the Trinitarian life with the Father, Son and Holy Spirit.
Action
We are urged that knowing about grace is not enough. We need to live a life of grace by God's grace, and this requires action on our part. We need to respond to grace as did the saints and above as did Mary. She, as an "icon" of grace, more than anyone shows us what the perfection of a life lived by grace means. Our baptismal birthright is being in a "state of grace" and this must be preserved at all costs – by God's amazing gift of grace!
This is a very uplifting DVD with references to Scripture and Tradition. It touches on all four dimensions of the Faith: the Church's teaching on grace; liturgy and the sacraments as sources of grace; the impact of grace on the way we live; and how grace enables and deepens the life of prayer. Some on-screen subtitles would have helped when key teachings were introduced. The DVD is one continuousproduction, and for the purposes of catechesis mini breaks with subheadings would enable it to be stopped and a useful discussion of the points raised could be made. Overall though, it is a comfortable half hour's viewing which could be used for an adult or more mature teen group in a parish.
Notes:
Carol Ann Harnett is Course Leader for the Foundations in Faith and the New Evangelisation Course, School of the Annunciation.