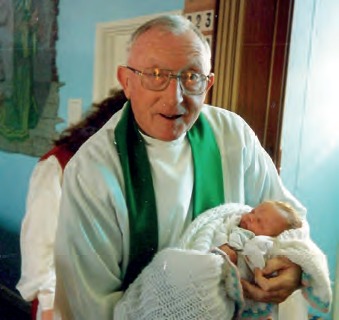 Father Bryan Storey RIP 1933-2018
Father Bryan Storey RIP 1933-2018
Bryan Sidney Storey was born in London on 8th May 1933 and evacuated to the remote coastal village of Tintagel in north Cornwall with his brother and schoolmates in 1940. It was at the local Anglican Church that he discovered his belief in God before becoming a Catholic in 1948. Following various jobs in London accountancy firms and two years in the RAF, he trained for the priesthood at St Augustine's in Walworth, London and St John's in Wonersh (1953- 1960). He was ordained 16th June, 1960 at St Anselm's Church, Tooting Bec and served eleven years as a curate in St Peter's, Hove.
Due to personal circumstances he moved back to Tintagel in 1971. It was meant to be a temporary move, but lasted over 47 years. Initially there was little to live on. He would cycle everywhere visiting parishioners and through the Legion of Mary searching out the lapsed. Eventually he was able to build a small presbytery Chy an Pronter in Cornish. He had a great love for the Blessed Sacrament and would spend hours kneeling in prayer in front of the tabernacle. He founded the International Crusade for Moral Reform and keenly promoted Eucharistic adoration. The confessional was also a very high priority. A humble and gentle priest, he led many into the Catholic Faith.
But perhaps he was best-known for his regular letters to the Press - often a lone voice defending the Church's moral teaching and particularly the value of purity.
In 2010 he celebrated his Golden Jubilee of the Priesthood at St Paul the Apostle Catholic Church in Tintagel, Cornwall. The last few years brought two types of cancer, Parkinson's Disease and finally a broken hip; he died due to complications caused by pneumonia on 26 July in Truro. His funeral mass was celebrated by three bishops on 9th August in his church of St Paul the Apostle.
Fr Bryan was always a friend of Faith – he was one of the magazine's longestserving book reviewers – and would recount his time as a seminarian at St Augustine's under the tutelage of 'Slim' (Fr Edward Holloway). He deeply valued Fr Holloway's teaching and influence on his own faith: "You are up to learning these things, Bryan; believe me: I'm no ogre!"
May he rest in peace.
Notes:
by
Fr Chris Findlay-Wilson