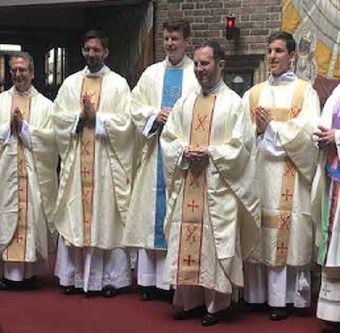 Fr Dermot O'Gorman: First Mass
Fr Dermot O'Gorman: First Mass
Rev Dermot O'Gorman, longstanding member of the Faith Movement, was ordained priest at St George's Cathedral,
Southwark, on Sunday July 26th and celebrated his First Mass at his home parish of St Elphege's, Wallington, the
following day. Fr Dermot was educated at the John Fisher School, Purley and Mr Daniel Cooper, who has run the "Faith Club" there for many years, was among the congregation. Mgr Patrick Burke preached and Fr Dermot's brother Fr Matthew was among the concelebrants.