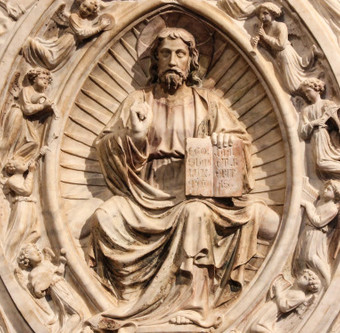 Interview - Evangelising the culture
Faith editor Joanna Bogle meets Bishop Philip EgaN
Bishop Philip Egan's greeting is cheerful and conversation with him is easy. His style is an encouraging blend of goodwill and thoughtful reflection. He doesn't waffle, and he likes to discuss concrete projects and useful ideas. He is a busy man, but relaxed and unhurried in conversation, with easy humour. We met at St John's seminary, Wonersh, where, along with other bishops and a large gathering of students past and present, he was taking part in the celebrations for its 125th anniversary.
The seminary lies in the Surrey countryside some way outside – and inland from – his own diocese of Portsmouth. Its imposing buildings are a little daunting to the visitor, but there was an immediate friendly greeting from the Bishop and a relaxed air as we sat and chatted.
Principal message
His principal message at present is about evangelisation, echoing the call of recent popes, and giving voice to a widespread concern about a sense of life having lost its meaning for many people "There is this reduction of living to a general soft-core list of things: money, health, individualism. And all of that can lead Catholics to a sort of inversion. There's a retreat from the public domain, to look inwards, a perhaps slightly self-satisfied retiring into parish life and not lookin g to outreach."
"There are 3.129 million people in Portsmouth diocese, and something like 7.5% are Catholics. That leaves about a million 'nones'. That is what I worry about. There must not be a retreat into Church politics and into internal matters. We need to be instilling a true culture of evangelisation: to be inviting Catholics to ask themselves 'How can I serve the poor and needy, and the people with no faith – how am I offering the Faith to them, the news of Jesus Christ?'
The message is all there, he emphasises, in Vatican II's Gaudiam et Spes, which along with Paul VI's Humanae Vitae he characterises as a "prophetic stance". "We need to have confidence in the Gospel vision of being human: we can deal with the secular anthropology, answering the questions it asks." He seeks to promote a "culture of discipleship" in the diocese: presenting the call of Christ, developing and forming men and women in the Faith, and equipping them to evangelise. And evangelisation essentially means person-to-person, using people's specific individual gifts.
Evangelising
Bringing a friend to Mass can be one way of evangelising – people sometimes only need to be invited. "This also means a liturgy that is dignified and beautiful, with a range of music that is attractive, so that people are happy to invite some one along. And it means fostering a love of Scripture, of silent prayer and of adoration of Christ in the Eucharist." He believes that it is devotion in prayer, and especially Eucharistic adoration, that will bring men to discern a vocation to the priesthood. "The ones we have are excellent...but we need more..."
He is encouraging about the New Movements in the Church and has been supportive of them, especially in their ability to communicate with the young. And evangelisation projects in the diocese are beginning to flourish.
Essentially, he emphasises, what is needed is Catholics developing a sense of being missionary disciples, of having a lifelong commitment to Christ and witnessing to others, with confidence in the Church and in its Magisterium. Bishop Philip is a Northerner – born in Altrincham, educated at St Ambrose College.
He studied for the priesthood at London's Allen Hall and at the Venerable English College in Rome, and has his STL from Rome's Gregorian University. He has served as hospital chaplain, parish priest, Dean of Studies at Oscott seminary and vicargeneral of Shrewsbury diocese, and is a popular speaker at catechetical events and at theological conferences.
Portsmouth cathedral stands, of course, in the city that was once a great naval centre but now has a rather diminished Royal Navy base. The city's changes are perhaps emblematic of those of Britain as a whole – with the Church standing, still surprisingly assertively, amid everything. But any modern Bishop knows that there are challenges ahead and that courage is needed. I asked Bishop Philip the – perhaps somewhat clichéd – question about his favourite saints, people who have inspired him.
"I always say it's not a question of choosing saints – it is they who choose you. It works out that way. St Joseph, I think – and St John Southworth, a priest of the north of England who was martyred in the south. St John Vianney, St John Paul – and St Elizabeth of the Trinity, who taught the importance of the Trinity in the heart of the baptised..."
And does he have a specific message that he'd like to give? "Simply that the Lord whom we adore in the Eucharist is the one we love and serve in the poor and the needy. And it is he who leads and encourages us."