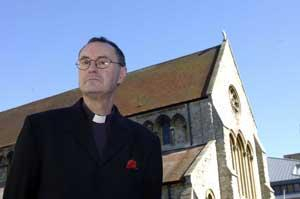 Obituary - Dr Geoffrey Kirk
Obituary - Dr Geoffrey Kirk
Geoffrey Kirk, secretary and effective founder of Forward in Faith, the Anglican movement which helped form the background for the Ordinariate of Our Lady of Walsingham, died on Good Friday, April 10th. His funeral, occurring in the Coronavirus lockdown, was private but a memorial Mass will be celebrated at the Ordinariate Church of the Most Precious Blood in London.
Dr Kirk was vicar for over thirty years of St Stephen's Church. Lewisham, South London. Forward in Faith was created following the 1992 decision of the Church of England's Synod to approve the ordination of women priests. Kirk's achievement was to bring together Anglo-Catholics and others who understood the implications of this for the unity of Christians, and to forge a group which honoured the Anglican heritage while striving for full communion with the Catholic Church. Born in Yorkshire, Kirk was educated at Keble College, Oxford, and trained for the Anglican ministry at Mirfield.
As vicar of Lewisham he ran an active parish, largely West Indian, in the "high" Anglican tradition, but was able to communicate effectively with Evangelicals who shared his concern at the loss of a coherent sense of doctrine in the Anglican Communion. He edited – and wrote large parts of – New Directions, the magazine of Forward in Faith, which had a wider readership, beyond the borders of the movement's membership. He was a supporter of FAITH magazine and an occasional contributor.
Kirk had a waspish sense of humour. His theological thinking and clarity of thought gave a clear understanding of the issues at stake in looking at an Anglican future. His mind was one that brought understanding in the confusion that surrounded the issues and therefore hope to many who held a vision for unity and truth. He was not unaware of the jealousies and tensions as people regarded the fundamental issues as being of less importance than their own careers. This cost him recognition in the CofE and he was never made a Canon despite long service in the same diocese.
When Pope Benedict XVI announced the formation of the Ordinariate – through which Anglicans could continue to hold their traditions and culture – Kirk's response was immediate and positive. A meeting of Forward in Faith was called, at which he urged strongly that the opportunity be seized to hold fast to cherished Anglican patrimony while coming into full communion with the Catholic Church. He was probably aware, even at that stage, that many would find their own security or career options more important than the long-term future for Christianity in Britain and other Anglophone countries. Nor did he mind whether his own role in the events leading to the successful formation of the Ordinariate would be be recognised.
His own reception into the Catholic Church was a low-key event at the Church of the Most Precious Blood at London Bridge, a parish he then continued to serve as an active layman. He gave Lenten lectures, served as an Extraordinary Minister of the Eucharist, and was a faithful member of the 11am Sunday congregation and convivial attender of the after-Mass coffee gatherings. In his Lewisham home, he remained as always an excellent host – he was a fine cook – and in his last years he enjoyed travel in Britain and overseas. He is buried in his beloved Yorkshire.
Christopher Pearson