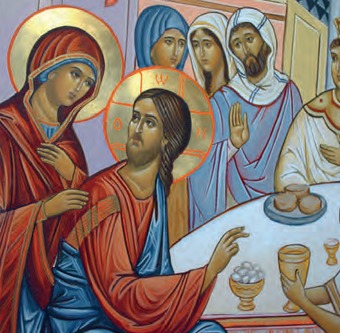 The Catholic Church and Marriage
The Catholic Church and Marriage
Cara Treacy
In the 2018 Catholic Young Writer Award, sponsored by the Catholic Union Charitable Trust, pupils at Catholic secondary schools in Britain were invited to write a letter to a friend who had asked about the Catholic Church's teaching on marriage, and what happens at a Catholic marriage ceremony. They were asked to make reference to the Scriptures and to the Catechism of the Catholic Church. The winning entry, gaining the coveted Young Writer trophy and a selection of books, was Cara Treacy of Sacred Heart of Mary School, Upminster, Essex. We publish the main part of her essay here. We do not pretend that this essay offers profound theological insights, but it shows that a young Catholic can grasp the essentials of the Church's teaching in this area and write on the subject with enthusiasm.
Dear Katie,
It's lovely to hear from you again. I'm sure you will have a wonderful time at Alex's wedding, but it will surely help to have information on the sacrament before you attend.
Through reality television shows and celebrity influences, weddings have become distorted and even irrelevant to some. The significance of vows and eternal promises are often overcome by the autocratic decisions of venues, dresses and cakes.
However, many will still argue of the paramount idealisms that lie in the sacrament of marriage. Christians and other faiths believe this argument as they feel marriage is a blessing from God and that it is a part of his plan for us to live together with those we love. Due to this common belief, Catholics feel it necessary to have the ceremony in a Church, which is God's house. We do this because we are then under the presence of God, meaning He will bless the couple and offer them His guidance and wisdom.
Wedding
The process of a wedding sacrament can vary in length, but a Catholic wedding will follow the same outline. Before the wedding day, both the bride and groom will have attended pre-wedding courses to better their understanding of the significance of marriage and make the ceremony more solemn. To start the sacrament, the priest outlines the purpose of marriage and reminds the couple that marriage is a sacrament that God will bless.
He acts as the Church key official witness. Suitable readings are chosen from the Bible and the priest gives a homily pointing out the meaning and responsibilities of a Catholic marriage. The priest questions the couple individually. The purpose of the questions is to ensure that the couple understand the responsibility of marriage. The questions: 1. 'Have you come to give yourself to each other, freely, and without reservation?' 2. 'Will you love and honour each other for life?' 3. 'Will you accept children lovingly from God?'. The couple exchange vows. This is the actual moment of the sacrament. Each in turn says 'I (name) do take thee (name) to be my lawful wedded wife/husband, to have and to hold from this day forward, for better for worse, for richer, for poorer, in sickness and in health, to love and to cherish, till death do us part'.
Acceptance and blessing
The priest represents the people of God, the Church, and accepts a mutual consent of the bride and groom. Then the exchange of rings will commence, the rings will symbolise their unending love. 'Take this ring as a sign of my love and fidelity in the name of the Father, Son and Holy Spirit'. Marriage blessing where special prayers are said asking for God's blessings on the couple so that they will become good parents. Lastly there will be a signing of the marriage register, the civil legal requirement for
a marriage. There may be a nuptial Mass…where the Eucharist is given as the first banquet for the
couple.
The reasoning behind marriage comes from God's plan for humanity. A quote from the Bible that explains the concept of marriage: "But at the beginning of creation God 'made them male and female' for this reason a man will leave his father and mother and be united to his wife, and the two will become one flesh. So, they are no longer two, but one flesh. Therefore what God has joined together, let no one separate." (Mark 10: 6-9). In this quote, we can see that our benevolent God created marriage so that we can experience love – we received love from our parents and peers and we experience unconditional love from God, but we try to emulate the commitment God made to humanity by committing to our partners. This allows us to understand God's divinity in more depth, as we are capable understand how difficult it is to love someone eternally without temptations such as money, looks and fame influencing our choices.
The marriage
In the marriage sacrament, the couple will exchange vows...While some couples may see those words as a contract binding the two together, Christians will see this as a sacred covenant. In our vows, we can decipher, again, the image of unconditional love…We commit to these vows in front of the wedding congregation and in front of God. All the witnesses… expect us to live up to the vows we promise to our partner. Jesus makes his love for us known in front of his disciples and witnesses also - "By this shall all men know that you are my disciples if you have love one for another" (John 13:35).
God made us in the image of himself: "God created man in His own image, in the image of God. He created him; male and female He created them,"(Genesis). We know we are expected to love God as unconditionally and to 'Love the Lord your God with all your heart and with all your soul and with all your mind.' -Matthew 22:37. However it is hard to fully show this; God gave us the choice to reflect our love onto someone else, who was made in the image of himself – as we all are.
Children
In marriage, one of the main connotations would be reproduction. God told humankind to fill the lands and to multiply. Once the sacrament of marriage has made the couple pure and whole, they would be able to create a Christian child in the likeness of themselves and God. God's plan was to fill the Earth with worshippers and Christians. Children are a blessing from God and while they present challenges to the couple, they also aid their growth both spiritually and emotionally as they can experience a true miracle of God's love as their child grows up in the safety and blessing of God in a married family. Sometimes, God 'closes the womb' of mothers to not allow them to give birth, this shows us God has control of our lives and love us so much he gives us guidance and has authority over our bodies. The Bible never demands married couples to have children, they are simply described as a blessing.
Sacrifices
Another reason for marriage is submission. Both partners in a couple make sacrifices to help the marriage and to submit to each other. ..We are learning attributes such as selflessness and trust in marriages and growing as Christians when placed in predicaments where temptation may take over.
Corinthians state that: "Love is patient and kind; love does not envy or boast; it is not arrogant or rude. It does not insist on its own way; it is not irritable or resentful; it does not rejoice at wrongdoing, but rejoices with the truth. Love bears all things, believes all things, hopes all things, endures all things." The final reason for marriage is one that is a gift from God. God presents us with difficulties in marriage, tests us, sometimes even separates couples however the core of marriage is love. The relationship between two individuals who wish to take on should a solemn sacrament should be eternal and emulate the perpetual love that God bestows on us...
God
On the other hand, many will disagree with these arguments. Marriage, today, is a huge monetary industry and brings in billions of pounds in twisted ways. From the size of the ring on your finger to the ribbons that hang on the reception dinner chairs, marriage has become something that is deemed unimportant. Many choose not to be in the presence of God for their marriage….in the popular television show, Don't Tell the Bride, the idea of marriage is completely exploited for money and for comedic purposes, some Churches are devalued and treated as 'joke' venues to upset the brides before their real ceremony. These shows ridicule the true meaning of Christian matrimonial sacrament.
…I believe marriage is paramount for a Christian, while I do understand many may not opt to marry or to commit to one person, I do feel that God wishes us to experience a deep and faithful love to someone we choose. God is a benevolent Father figure to us, and if He wishes us to marry to fully empathise the importance of love, I believe we should trust our Father.
The Catechism
The Catechism writes about marriage multiple times…: "The matrimonial covenant, by which a man and a woman establish between themselves a partnership of the whole of life, is by its nature ordered toward the good of the spouses and the procreation and education of offspring; this covenant between baptized persons has been raised by Christ the Lord to the dignity of a sacrament," - (CCC). We can see that… we have become obsessed with big, bold celebrity weddings and have forgotten the words we commit to for eternity when we step down the aisle, marriage – although for different reasons for many- is a way of truly connecting to God on a another level and experiencing love towards another to emulate the love God give us on a daily basis.
I do hope you have a great time,
Send me lots of pictures!
Love from,
Cara x