September 2019 Faith Community Reflection
Fr Philip Miller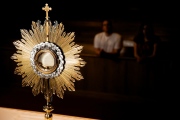 ---
I celebrated recently my 20th Anniversary of Priesthood. I offer you the principal parts of the homily of that Mass.

What a joy to be able to celebrate this anniversary Mass on the 26th August, feast of Blessed Dominic of the Mother of God (Dominic Barberi), the Italian priest who so loved England. For me, and for any priest working in the parishes of this country, Dominic Barberi is an inspiration and an example.

Quite apart from his extraordinary labours in the 8 years at the end of his life that he was in England for, his ministry had, as a jewel in the crown, the receiving of the famous John Henry Newman into the Catholic Church … and we are just a few weeks away from the canonization of Newman by Pope Francis in Rome this October. Barberi had an immense influence on Newman, and was the tipping-point, for him, spiritually, as he weighed up his convictions about his faith. As an Anglican, Newman had written: "If they [the Catholics] want to convert England, let them go barefooted into our manufacturing towns — let them preach to the people like St Francis Xavier — let them be pelted and trampled on, and I will own that they do what we cannot. I will confess they are our betters far."

And at that time he was not convinced. But, when Bl. Dominic visited Newman, first in June 1844, Newman saw immediately in him a person of exactly that apostolic zeal and sanctity that he had been looking for. "When his form came in sight," Newman later wrote, "I was moved to the depths in the strangest way. His very look had about it something holy."

The next year, the community of friends and scholars that Newman had gathered round him, 'in exile' from Oxford, out at Littlemore, invited Bl. Dominic again to visit. On 8th October, 1845, having endured hours of driving rain on the outside of a stagecoach, Bl. Dominic arrived soaked at Littlemore. Even as he was still trying to dry himself in front of the fire, Newman knelt at his feet, and asked to be received into the Catholic Church. His confession went on late, was completed in the morning of 9th October, and Bl. Dominic celebrated Mass for the new Catholics, Newman and two of his friends. It sent shockwaves around the establishment, so huge an influence did Newman have in his day as a Christian scholar and minister.

There is no time here to go in to all the labours of this valiant missionary, Bl. Dominic Barberi. But suffice it to say that this work of rebuilding the Catholic Church in England, that he laboured at over 8 strenuous years at the end of his life, were but the culmination of a longing to serve the Lord in England that had been with him since his earliest days as a Passionist brother, 30yrs before. He trusted long and hard, and served the Lord in numerous ways, before the work which the Lord had prepared him for, in our own land, building up the Church we know and love, so that many may come to know and believe in the one Lord and Saviour, Jesus Christ.

All the readings of this anniversary Mass today speak of the need for patient, committed, faith-filled effort and focus, all for Jesus. Dominic Barberi exemplified this, two centuries ago, and we would do well to emulate it. Yes, there is a particular emphasis for us priests, as we look to redouble our efforts in the service of Christ, for the instruction of those hearts who seek Him. But it is a work that we all partake in, for the Lord and for our countrymen. Our people deserve the truth — the truth that Blessed Dominic laboured to spread; the truth that Blessed JH Newman converted to after such agonizing … and which lost him so many friends and gained for him so great a peace. That Gospel truth will not spread itself, will it? It wasn't Jesus's intention that it would, and from the beginning He instructed His followers to set about preaching it with vigour and with courage.

As we heard in the Gospel (Lk 22:14–20,24–30), Our Lord sends them out from the Last Supper, into the world, the apostles of the new Kingdom. They had known Him and stood by Him faithfully in His trials, though they were to witness worse, as He approached His Crucifixion; but they were also being prepared to go into the world themselves, on His behalf, carrying His truth. And what did He arm them with, to succeed in this daunting task? Two things, the Gospel says: (i) the Sacrament of Salvation, the gift of Himself in the Holy Eucharist; and (ii) His sublime example of humble service. These were the weapons with which they were to triumph. From nowhere else can or do these gifts come to humanity, than from the living God, Jesus Christ Himself: from His own mouth; from His own hands. As the first reading (Sirach 2) said, even those faithful kings and prophets, heroes of the Old Testament, were not to know salvation except in Jesus Christ who was to come — Jesus Christ whom we have the privilege to know, whom we have come to know, thanks to our parents or our friends, the Church of today, who have brought us to faith.

What is it, then, that we have to share, with this faith of heroes, saints, martyrs? We have to share (i) the Most Blessed Sacrament of Salvation, the Holy Eucharist; and (ii) the tireless example of humble service. These we should be imploring the Lord to help to appreciate, live and offer more and more as active Christians. The task the Lord has given us is not small — it is not petty or irrelevant, it is a great and lifelong challenge; it is a wonderful, life-giving mission. It is a joyous task that we undertake for the love of the Lord — whether as priests, or as lay faithful (perhaps as parents and grandparents; as godparents and sponsors; as friends) — and the Lord keeps affirming us in it: be patient, stay faithful, endure the trials … It will be worth it! Its worth is the promised gift of eternal happiness.

I want to say a word to the younger members of this congregation: the children, and the teenagers! I want to say 'thank you' for being here! For coming to this celebration of Holy Mass for the anniversary of a priest whom some of you have only met a few times (or never!). Thank you for coming, for giving up this Bank Holiday, for coming here rather than being on the beach, or playing football with your friends, or being in a nice air-conditioned cinema! I say to you all: appreciate this great gift of faith that Jesus is offering you through, and with the love of, your parents. Saints and heroes — your parents among them! — have lived bravely this Catholic life in Jesus for 2,000yrs, and know it to make life ultimately meaningful and therefore worth everything. Thank you for being here, with your parents today: not because of me, but because of what it means for you! Jesus is your life: Jesus in His gift of the Eucharist; Jesus showing you how to be humble, selfless, of service to others without end. Much will be demanded of you in the modern world if you are to be courageous disciples of Jesus; but then much was demanded by Jesus of the apostles as they set out to convert the world; … much was demanded of Bl. Dominic Barberi in his exertions for England; … much is demanded in every generation for those who love the Lord. But here, in church, at Mass, at the feet of Jesus, you will have all the grace you need for that life of faith!

Let's hear again those closing, stirring, words at the end of the reading from Hebrews (12:28–29): "Therefore let us be grateful for receiving a kingdom that cannot be shaken, and thus let us offer to God acceptable worship, with reverence and awe; for our God is a consuming fire." Thanks be to God for our faith, and for the priesthood of Jesus Christ which serves our faith.