September 2018 Faith Community Reflection
Our Lady of Sorrows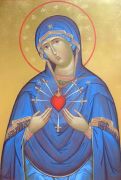 Fr Stephen Brown
If we go to Mass and say our prayers, try not to sin, try to do good, then God will protect us and everything will be fine and nothing bad will happen to us, right? In a way, yes – if we love God and live in God, we will experience His protection – "The LORD shall guard thy going out and thy coming in, from this time forth and for ever," (Psalm 121) Yet it is astonishing how many practising Catholics are puzzled and uncomprehending when they are afflicted with suffering. "I just can't see what I've done wrong, Father. I say my prayers, and don't harm anyone, why has [insert: family break up, job loss, neighbour problems, financial ruin, cancer etc] happened to me?"
But what about Our Lady? Full of grace, without sin, pure and holy, closest to God? Why should she suffer since she had done nothing to "deserve" it? Why is it that the Church has a feast entitled Our Lady of Sorrows when we should all be full of joy in the Holy Spirit? But joy and sorrow must inevitably co-exist on this evil-scarred earth. It seems, mysteriously, there is also sorrow in Heaven – sorrow at the continual offences against God, sorrow for the agonies of suffering humanity.
Traditionally, the Seven Sorrows of the Blessed Virgin were: The Presentation in the Temple, involving the prophecy of the rejection of Christ and the sword to pierce Mary's heart; the Flight into Egypt; the loss of Jesus for three days; the Way of the Cross; the Crucifixion; the Taking down from the Cross; the Burial of Jesus. We note how all these sorrows have a direct relationship to Christ. Thus, from the beginning, the fulfilment of God's plan in Christ was the occasion of suffering for Our Lady. Without doubt, from the moment He was arrested in Gethsemane, she knew what was in store. She knew this outpouring of divine love would heal the rift between God and Man, she knew Jesus endured His suffering and death freely, she knew He would rise again. But before that, she knew she was being asked to endure with Him, to accompany Him in His sorrow and pain, to join her suffering with His. And so she did. Hour by hour, minute by minute, second by second. She observed, accepted and embraced every second of His Passion, uniting her will to that of God. In the Creed of the Mass of St Cecilia by Gounod, the singing lingers over the word "passus" – he suffered death – to convey its unbearable duration.
The Church in our time has entered into her own dark Passion, reviled and rejected, sick within with wounds foul and festering, the result of her own folly; seemingly abandoned by God in the guise of her shepherds. Let what needs to be crucified, be crucified. As Christ continues to suffer through time in His Mystical Body, the Church, Mary likewise shares in the sorrows of her suffering children. The acceptance of such sorrow on the part of those who belong to Christ is always redemptive: it brings things back to where they should be, it brings people back to where they should be – in communion with the All-Holy God.
On our own part, members of the same Mystical Body of Christ, may we never waste any daily Cross, any suffering, but like Mary, may we see it as a chance to help Christ redeem what still needs to be redeemed; in our time, in our life.