Featured
It's a free country" we used to say, when someone wanted to do something slightly ridiculous. Go ahead, walk around the streets with a placard saying
"The End is Nigh", eat mustard on your jam sandwiches or join the Mormons and denounce tea-drinking – it's a free country.
Is it? We can still do some ridiculous things if we like. But increasingly, Christians seem to be treated harshly by public authorities – even criminalised – for upholding in public some aspect of Christian morality, specifically sexual morality. The idea of a creative tension between freedom of speech and the needs of the community, of a shared desire to serve the common good, is under attack.
Are we free? We need to claim our freedom and make use of it. The Christian voice is needed in Britain. The great St John Paul said that religious freedom is "the basis of all other freedoms and is inseparably tied to them by reason of that very dignity which is the human person" (letter to the Secretary General of the United Nations, 1978).
Read More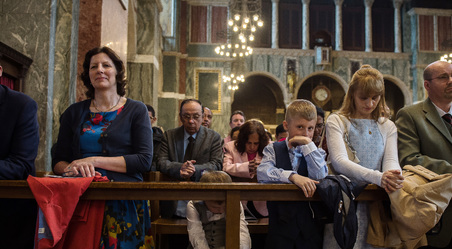 Since 2013 the Diocese of Westminster has been working with the Explore educational charity to provide a "remote marriage preparation" experience in the diocese's high schools and parishes. In December 2014, with the help of a grant from the Celebrating Family Fund from the Catholic Bishops' Conference, a Local Development Officer for the project was appointed. Four parish youth/Confirmation groups and almost a dozen schools have taken par t in sessions during which more than 1500 young people have had a chance to dialogue with married couples about what makes their marriage work. The feedback from these "workshops" is over whelmingly positive. One student said: "It gave me a bet ter understanding of how marriage works." Another said, " You can overcome any thing in a relationship if you truly love each other and want to try."
Read More