Featured
Advent, Christmas. And the Incarnation
There has been no shortage of good copy for newspapers this year, but back in the early summer, somewhere between the General Election, and before terrorist horrors in Tunisia, there was a brief few days when not much seemed to be happening. And so a rather obscure campaigning group was able to get some headlines by announcing that God should be addressed as "she".
The thing had a faintly '70s flavour – Daily Mail headlines sounding appropriately shocked etc – and the story, as it emerged from the layers of cliché, was not particularly impressive: something called the "Transformations Steering Group" had announced that Anglican bishops should promote more "expansive language and imagery about God". And the Transformations Steering Group turns out to be a gathering of lobbyists from groups with 70s-style acronyms, the Cof E's website informing us that "The Steering Group comprises 2 representatives proposed by each of the constituent groupings (DARC, NADAWM, WATCH & AWESOME) plus a senior woman from the Northern Province".
Read More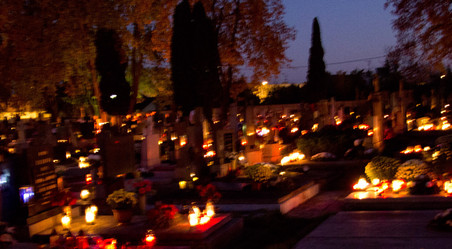 The main difference that is noticed in a modern Catholic funeral is the abundance of flowers and candles, (which have become the universal mark of condolence) and almost in inverse proportion, the scarcity of Mass cards and Mass stipends. Thirty years ago it was the other way round. We need to ask if people still believe in praying for the faithful departed and that it is "not a fond thing vainly invented." The practice was strongly endorsed by the Council of Trent in 1563 precisely to counter the arguments of the Reformers. There is a Memento in every Eucharistic Prayer, and the 2nd November and the subsequent month is dedicated to the Holy Souls. Has it just withered away in people's minds ?
Pious remembrance is better than nothing, but it easily slides into a certain agnosticism. We can wonder whether we wander disembodied in the next life, 'having passed over' or maybe dwell in some alternate universe. Perhaps we console ourselves with the thought that our dead are all with God in heaven, like the angels - which of course is an impossibility, as we are a different species. Cardinal Basil Hume visited Jennifer Patterson (of the Two Fat Ladies) in hospital, as she lay dying of cancer, and said as he was leaving, "Well, Jennifer, see you in heaven." To which she is supposed to have replied, "No, Eminence, but I hope we meet in Purgatory."
Read More